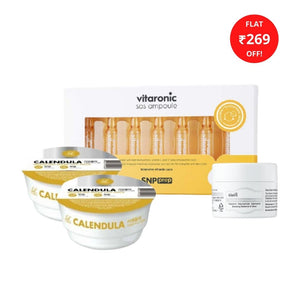 Get Set Glow is a glow booster kit intended for immediate specialized skin care to help relieve tired and dull looking skin. This kit contains 2 rubber masks, that have skin soothing capabilities and leaves you feeling refreshed, a set of 7 vials of Vitamin C ampoule, creating a 1 Week Recovery System and finally a Vitamin E mask that can be used as a mask, a thick sleeping pack or as a daily moisturiser. Formulated with Vitamin E, it delivers antioxidant benefits that brighten the skin, improve wrinkles and reduce signs of ageing.
The Lindsay Rubber Masks are created with a blend of algae, clays and minerals. On adding water the first two ingredients transforms from powder to a soft gel-like texture. This mixture has the ability to hydrate without evaporation ensuring skin absorbs maximum moisture and minerals so that it's purified and renewed. The Calendula Modelling Mask contains real calendula flower extract to calm irritated skin making skin soothed and relaxed. In addition the calendula flower has moisturizing and hydrating property that replenishes an exhausted complexion leading to nothing but renewed and more radiant skin.
The SNP Prep Vitaronic SOS Ampoule is formulated with high quality ingredients, the ampoules use a Vitamin Complex as the main ingredient, with powerful skin-soothing properties that help revitalise your skin, and even out skin tone and texture.
Klairs Freshly Juiced Vitamin E Mask transforms into an essence like texture, that helps the product penetrate the skin well, and allows it to improve moisture retention, and lock in moisture for at least 8 hours. Its memory foam consistency not only helps it retain a smooth appearance in the tub, but is also what gives your skin a bright and firm look.