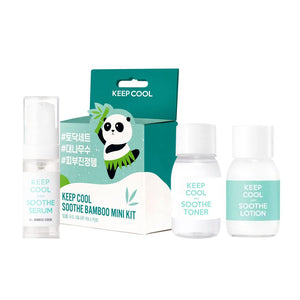 KEEP COOL SOOTHE BAMBOO TONER
Meet all the benefits extracted from the natural bamboo water!
KEEP COOL's Soothe Bamboo Toner is filled with 85% natural bamboo water instead of chemically refined water. It provides a pack of moisture into the skin, and slightly acidic pH of 5.5 that is similar to our skin that helps to maintain a healthy skin balance. A lightweight formula that clears skin residues and smoothes out the texture. It instantly absorbs into the skin, so you can apply it several times. Plant-based ingredients will provide a quick soothing and freshy feeling.
KEEP COOL SOOTHE BAMBOO SERUM
Keep Cool Soothe Bamboo Serum contains 66% Bamboo water and 4.5% of centella to help calm sensitive skin and create the skin's barrier and heal damaged skin. Outstanding penetrative and long-lasting moisturizing properties to sustain moisture and gives a cooling effect to the skin. Skin healing recipe found in the forest to reduce irritation and redness on sensitive skin. KEEP COOL suggests skincare combining ideal solutions based on 'natural ingredients' developed by KEEP COOL's own unique technology and goodness of Korean ingredients.
KEEP COOL SOOTHE BAMBOO LOTION
Thanks to the patented Derma-Clera ingredient and bamboo water, you will notice that your skin barrier is getting thicker and stronger as you use it. Hyaluronic acid with 7 different molecular sizes will add moisture to both inside and outside of the skin. As it is a pumping type lotion, it's much easier to control the amount required. Its emulsion type, fluid texture will help the fast absorption and provide high level hydration. As artificial fragrance or aroma oils are not included in the product, so every family member, even kids will be able to use it without any worries.
Expiry: 2023/09
Ingredients:
KEEP COOL SOOTHE BAMBOO TONER
Bambusa Vulgaris water (85%), glycerin-26, glycerin, purified water, 1,2-hexanediol, hydroxyethyl urea, butylene glycol, sodium hyaluronate, Polyglutamic acid, Lonicera japonica Extracts, Scutellaria baicalensis extracts, Forsythia suspensa (Thunb.) Vahl Extract, Prunus persicae extract, Thuja orientalis L. extract, Pinus Densiflora Extract extract, Bambusa Vulgaris extract, Sodium citrate, Citric acid, Disodium-EDTA.
KEEP COOL SOOTHE BAMBOO SERUM
Bambusa Vulgaris Water, Water, Butylene Glycol, Centella Asiatica Extract, Dipropylene Glycol, Glycerin, 1,2-Hexanediol, Panthenol, Cellulose Gum, Carbomer, Allantoin, Polyglutamic Acid, Madecassoside, Sodium Hyaluronate, Asiaticoside, Lonicera Japonica (Honeysuckle) Flower Extract, Scutellaria Baicalensis Root Extract, Forsythia Suspensa Fruit Extract, Chamaecyparis Obtusa Leaf Extract, Thuja Orientalis Extract, Pinus Densiflora Leaf Extract, Bambusa Vulgaris Extract, Glyceryl Acrylate/Acrylic acid Copolymer, PVM/MA Copolymer, Disodium EDTA
KEEP COOL SOOTHE BAMBOO LOTION
Bambusa Vulgaris Water(484,500ppm), Water, Butylene Glycol, Cetyl Ethylhexanoate, 1,2-Hexanediol, Glycerin, Trehalose, Simmondsia Chinensis (Jojoba) Seed Oil, Cocos Nucifera (Coconut) Oil, Cynanchum Atratum Extract, Scutellaria Baicalensis Root Extract, Lonicera Japonica (Honeysuckle) Flower Extract, Forsythia Suspensa Fruit Extract, Bambusa Vulgaris Extract(220ppm), Pinus Densiflora Extract, Thuja Orientalis Extract, Chamaecyparis Obtusa Leaf Extract, Sodium Hyaluronate Crosspolymer, Hyaluronic Acid, Hydroxypropyltrimonium Hyaluronate, Sodium Hyaluronate, Hydrolyzed Hyaluronic Acid, Hydrolyzed Sodium Hyaluronate, Pentylene Glycol, Glyceryl Stearate Citrate, Polyglyceryl-3 Distearate, Cetearyl Alcohol, Carbomer, Tromethamine, Disodium EDTA