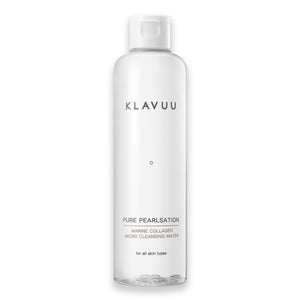 The Klavuu Pure Pearlsation Marine Collagen Micro Cleansing Water is a fragrance and paraben free cleanser that gently removes makeup, dead skin cells, dirt and other impurities. The mild formula keeps skin clear while replenishing its moisture.
The micro cleansing water does not actually use any water, however it provides a safe and gentle option to deeply cleanse your pores. The water uses a yeast ferment filtrate that helps soften your skin and improve your skin's immunity by strengthening your barrier. Marine collagen keeps skin hydrated and moisturised even after you are finished cleansing. Pearl extracts help brighten dull skin, while flax seed and aloe leaf help moisturise and soothe skin.
Best for those who want a single cleansing step, a travel-friendly cleansing option, or a lightweight morning cleanser too.
Expiry: 2023/08
Ingredients:
Hydrolyzed Pearl, Pink Rose Extract, Saccharomyces Ferment Filtrate Water, Butylene Glycol, Dipropylene Glycol, PEG-6 Caprylic/Capric Glycerides, Glycerin, Linum Usitatissimum (Linseed) Seed Extract, Hydrolyzed Pearl, Rosa Damascena Flower Extract, Saccharomyces Ferment Filtrate, Aloe Barbadensis Leaf Polysaccharides, Milk Lipids, Hydrolyzed Collagen, PEG-40 Hydrogenated Castor Oil, Caprylyl Glycol, Ethylhexylglycerin, Decyl Glucoside, Sodium Citrate, 1, 2-Hexanediol, Citric Acid, Propanediol, Theanine, Glutathione, Disodium EDTA, Phenoxyethanol