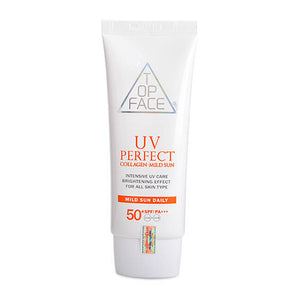 Arra Top Face UV Perfect Collagen Mild Sun SPF50+/ PA+++ is a broad spectrum, lightweight and hybrid sunscreen with no white cast. Being hybrid, it has properties of both physical and chemical sunscreens. Apart from sun protection, it helps your skin retain moisture and controls trans-epidermal water loss (the process of loss of water from the layers of your skin to the atmosphere). The presence of collagen in the product helps in dealing with hyperpigmentation and black spots, whilst boosting the elasticity of your skin. It's a non-greasy formula that works well as a base for your makeup.
Expiry: 2024/05
Ingredients:
water, etheylhexylmethoxycinnamate, titanium dioxide, butylene glycol, 4-methylbenzylidene camphor, dicaprylylcarbonate, beeswax, cetearyl alcohol, polyglyceryl-3 methylglucose distearate, stearyl alcohol, caprylic/capric triglyceride, glyceryl stearate, dimethicone, tocopheryl acetate, hydrolyzed collagen, xanthan gum, arbutin, aloe barbadensis leaf extract, morus alba bark extract, disodium EDTA, hydroxyethylcellulose, dipotassium glycyrrhizate, allantoin, betaine, resveratrol, 1,2-hexanediol, perfume.
Good for lightweight sunscreens
- Bought this after I tried out a tester at the KBeauty store and really liked the way it blended into my skin and was easily absorbed too. Glad that I did.
- I use this for my face. Blends in well? Yes.
- White cast? No.
- Consistency is perfect for my sensitive combination skin. Leaves skin feeling supple and plump after.
- Does it make my face feel fresh? Yes, when first applied. It is lightweight.
- The fragrance is mild and good.
- Good for everyday use for anyone who doesn't spend too much time out in the sun.
- Has it helped in dealing with hyperpigmentation and black spots, whilst boosting the elasticity of my skin? Not sure for the first two, but seems to do a bit with respect to the elasticity.
- Leaves a mild dewy feel that still looks good and healthy.
- Hydrating? Yes.
- Protection? Reasonable. Good for a couple of hours before reapplication.
- Unfortunately not water-resistant.
- Yet to try this under makeup
- Consistency a bit thick/greasy for Indian summer months if you stay outdoors for long or have oily/combination skin type
- Price is a bit steep in INR (since it's a K-beauty product so I get why) but on the cheaper side when compared to other popular Korean origin sunscreens.
- Will I be repurchasing? - If I find it at a discounted price, yes.
Face Top Peaches and Cream Sunscreen
i love love love it!!! THANK YOU
Arra Top Face UV Perfect Collagen Mild Sun SPF50+/ PA+++ 70ml
Liked it
It's good and consistency is pleasant. Not sticky or oily. NO white cast and doesn't pill
I normally use Purito SPF 50 PA++++ sunscreen. But after the controversy I decided to try this one. And my god let me tell you how good it is. Melts in your skin and no white cast. I can't believe that I had not discovered it sooner. Just love it. 😊