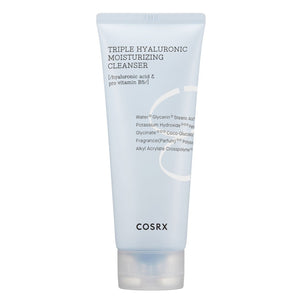 The Cosrx Hydrium Triple Hyaluronic Moisturizing Cleanser is a plant-derived foam cleanser fortified with Vitamin B5 and triple hyaluronic acid. It adds moisture while cleansing impurities to ensure your skin does not feel dry, tight or flaky.
It deep cleanses with plant-derived surfactants. Coconut derived surfactants offer a deep cleanse that gently dissolves impurities including makeup leaving the skin feeling super clean and refreshed. As a result it simplifies your cleansing routine, with an all clearing formula.
Specially formulated to minimise irritation it has a rich, creamy formula that forms luxurious, bouncy bubbles that minimize the need to rub your skin hard. This enables you to gently cleanse away oil, sebum, and surface impurities without stripping the skin.
The Cosrx Hydrium Triple Hyaluronic Moisturizing Cleanser is a hydrating cleanser with D-Panthenol (Vitamin B5) and 3 types of Hyaluronic Acid. Vitamin B5 moisturises and repairs skin. High molecular weight Hyaluronic Acid forms a protective moisture barrier. Meanwhile low molecular weight Hyaluronic Acid penetrates into the skin to increase its elasticity, keeping it hydrated and soft even after cleansing.
Expiry: 2025/11
Ingredients:
Water, Glycerin, Stearic Acid, Myristic Acid, Lauric Acid, Potassium Hydroxide,Palmitic Acid, PotassiumCocoylGlycinate, Coco-Glucoside, Glyceryl Stearate,Fragrance(Parfum), Polyquaternium-7, Acrylates/C10-30 Alkyl AcrylateCrosspolymer, SodiumCocoylIsethionate, Arachidic Acid, Disodium EDTA, 1,2-Hexanediol, Oleic Acid, Sodium Benzoate, Quillaja Saponaria Bark Extract, CitricAcid, Butylene Glycol, Panthenol, Hyaluronic Acid,Ethylhexylglycerin, Hydrolyzed Hyaluronic Acid, Sodium Hyaluronate