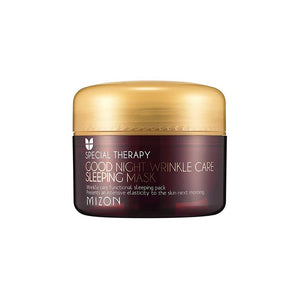 MIZON Snail Wrinkle Care Sleeping Pack intensively take care of wrinkles and elasticity while sleeping.
Mucin in filtered snail mucus regenerates trouble-prone skin, while peptides leave skin plumper and younger-looking.
The rich texture wraps around your skin to provide intensive nutrition while you sleep to leave your skin replenished and plumper in the morning.
How to use:
In the last step of basic skincare routine for the evening, apply an appropriate amount evenly over face and go to sleep without rinsing.
Expiry: 2025/03
Ingredients:
Snail Secretion Filtrate, sh-Octapeptide-4, sh-Decapeptide-7, sh-Pentapeptide-19, sh-Oligopeptide-9, TremellaFuciformis(Mushroom) Extract, SaccharomycesFerment Filtrate, Vanilla PlanifoliaFruit Extract, AureobasidiumPullulansFerment, FomesOfficinalis(Mushroom) Extract, Acacia SeyalGum Extract, Glycine Max (Soybean) Seed Extract, DioscoreaJaponica Root Extract,LavandulaAngustifolia(Lavender) Extract, ChamomillaRecutita(Matricaria) Flower Extract, Sea Water,Citrus Aurantium Dulcis (Orange) Fruit Extract, Citrus Grandis (Grapefruit) Fruit Extract, ButyrospermumParkii(Shea) Butter, OleaEuropaea(Olive) Fruit Oil,Honey Extract Citrus Limon (Lemon) Peel Oil, Citrus AurantiumBergamia(Bergamot) Fruit Oil, CedrusAtlanticaBark Oil, SantalumAlbum (Sandalwood) Oil